No Cool Box, No Problem – Camping Meal Ideas that Don't Require Refrigeration
Having a cool box as part of your camping gear makes perfect sense. They are great for storing perishable foods and drinks that you enjoy chilled, but they are bulky and unless you have an electric cool box, it's not going to stay cold for the duration of your camping trip. (Some camp sites offer freeze block freezing which is a way of making your cool box stay cool for longer. Another option is to buy bags of ice if you are camping near a supermarket.)
We usually take a cool box when we go camping but most of our camping food supply is food that doesn't require refrigeration. There's no way a cool box would fit chilled food for a family of 5 for 3-4 days anyway.
Luckily there are lots of camping meal ideas that don't require refrigeration and in this article, you'll find plenty of suggestions for breakfasts, lunches, and dinners – no cool box needed. I've included a few snacks and treats too!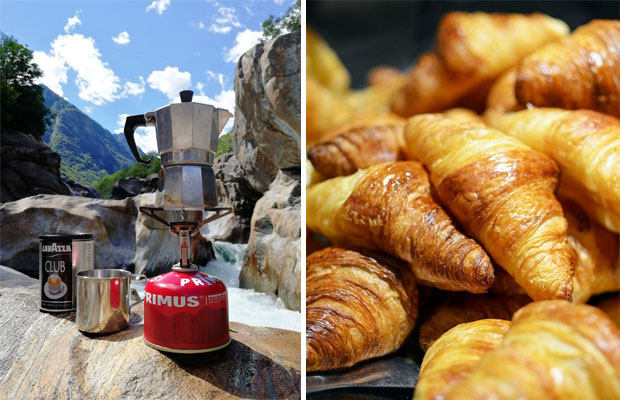 Breakfasts
Breakfast food is probably the easiest category as so many breakfast items don't need chilling.
Hot Drinks. For me, the day always starts with strong coffee, and I mainly drink black coffee so all I need is my favourite instant espresso powder and hot water. Tea and other types of coffee are easy too. If you prefer these drinks with milk, then you can take coffee sachets that contain milk powder like instant cappuccino for example, use powdered milk that you add yourself or use fresh or UHT milk. Some supermarkets sell UHT milk in pint sized packets which are a great size for a family breakfast. Most UK camp sites have a small shop with essentials where you can usually pick up a pint of milk in the morning if you prefer the fresh stuff.
Cereal. Cereal is naturally easy to store without a cool box and we've just covered how to get milk. If you spot those mini boxes of cereal on offer, then camping is a great time to enjoy them.
Porridge. Porridge is easy to make with just oats and hot water and any toppings you like such as golden syrup, honey, fresh or dried fruit, nuts and seeds, etc. You can also get porridge pots or porridge sachets to make it even easier.
Breads & Pastries. We usually eat things like croissants and brioche or other breads for breakfast when camping as everyone likes them and they don't require chilled storage. Some of these products can be bought with a topping or a filling but you can add your own too of course. Sturdy breads like bagels or flat breads like bagels or pita breads are easy to store without worrying about squashing anything.
Spreads. There are lots of spreads and toppings for bread products that you can enjoy without a cool box – chocolate spreads of different kinds, honey, jam, peanut butter, or other nut butters, to mention a few. You can also store regular butter outside a fridge for a few days – like in the olden days when butter used to sit in a dish on the table. Just make sure you wrap it up properly and keep it out of the sun. Same goes for hard cheese which can survive a couple of days if stored correctly.
Fruit. Fresh, dried, or tinned fruit is a great addition to any breakfast and easy to incorporate when you're camping too. Bananas and raisins are our favourites as they're easy to consume and everyone likes them! The kids usually have some fruit pouches as smoothies too.
Smoothies & Juices. Speaking of which, not all smoothies and juices need to be chilled. Choose some that are stored outside the fridge in the supermarket and buy a convenient size for your family, a packet that you know that you can consume in one sitting.
Eggs. Another breakfast staple for many. Eggs can be boiled, fried, scrambled or turned into an omelette. Store them in a plastic egg box to keep them protected.
Store-bought Pancakes & Waffles. These make a super easy and quick breakfast for the kids. They love the waffles that come with a chocolate topping, or the crepes filled with a chocolate hazelnut spread – see the chocolate theme here? These are also handy for snacks. You can make your own pancakes when camping too, of course, using batter mix from the shop or that you've prepared at home before your camping trip.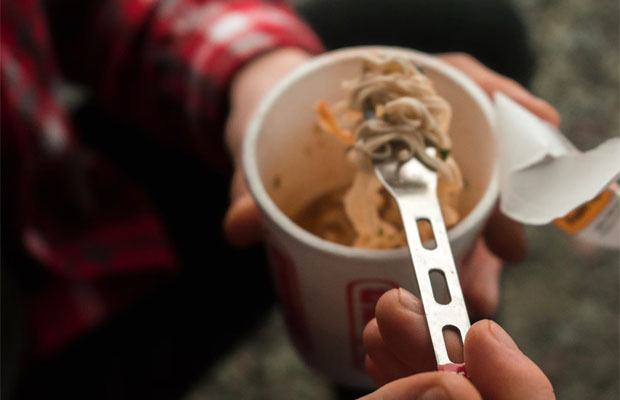 Main Meals – Lunches & Dinners
There are lots of ingredients for main meals that don't need refrigerating either which is great. Let's look at some products that can be very convenient for camping.
Instant Foods. There are lots of instant foods that make excellent camping meals – instant noodles/ramen and instant rice/couscous/pasta in different flavours for example. You can use these as a base and then add extras to make them more flavoursome.
Pasta. Dried pasta is easy to store. When cooked, add a sauce from a jar and some veggies. You can even get parmesan style cheese that doesn't need refrigeration but it's not quite like the real stuff. Look for quick-cook pasta to save time and gas when cooking on your camp stove.
Tins and Jars. There are loads of different tinned foods and foods in jars that can be enjoyed when camping without the need for a stove. They usually need to be consumed soon after opening though so buy the right size for your family's needs for one meal. Some examples are soups, chilli, curry, sauces, meats (meatballs, tuna, ham, etc.), beans of different kinds, other vegetables and fruits (sweetcorn, pineapple, etc.), cooked potatoes… there are so many! The best thing to do is to walk down the aisles of your supermarket and see what you can find! We often buy dolmades (stuffed vine leaves) and gigandes plaki (large white beans in a herby tomato sauce) and eat these with some bread and butter for a meal – delicious and easy!
Vegetables. Fresh, tinned, dried or from a jar! Sometimes I pack a salad or just chopped up fresh veggies in an insulated container to enjoy on the first day for ease. Avocados are great for camping as part of your main meal or to enjoy on bread.
Proteins. We've already covered beans! There are some meats that don't need refrigerating, like some hot dogs, beef jerky and some cured meats for example, and some dried options for vegetarian soy protein for example. Eggs are great for main meals too, of course.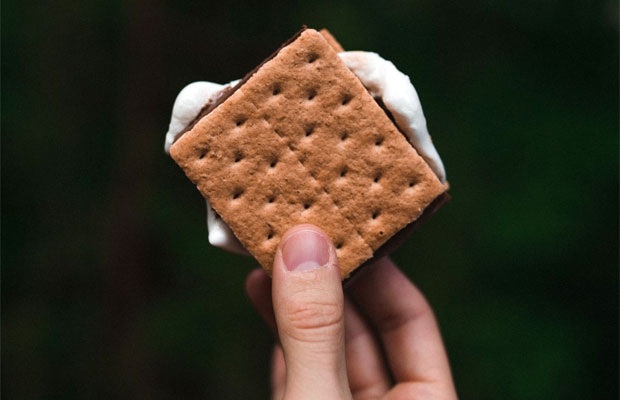 Snacks & Treats
This category is perhaps the most important one to keep the children (and myself!) happy with regular energy top ups!
Crisps. Crisps of all kinds make great snacks or additions to main meals.
Popcorn. Ready popped or popped on your campfire/camping stove, sweet or salty – you decide.
S'mores. A camping classic that is fun to make over your campfire or on your camping stove. Or simply go for toasted marshmallows!
Crackers. Mini cheddars, any other crackers you like, rice cakes and breadsticks all make good snacks for grown ups and kids.
Cereal bars. Cereal bars are great snacks for on the go and come in lots of varieties. They can be quite healthy too if you make your own snack bars or opt for healthier brands. They usually contain things like oats, dried fruits, nuts, seeds, and a bit of chocolate. Great for an energy boost!
Trail Mix. Trail mix – homemade or shop-bought – or simply bags of dried nuts and fruit are great snacks to enjoy on the go or at your campsite.
Chocolate & Sweets. Some treats like these are essential (for me).
Biscuits. Biscuits are easy to store too and make a tasty treat to enjoy with a cuppa.
As you can see, there are plenty of camping meal ideas that don't require refrigeration. For the best result, think about how you store your non-refrigerated food too, to ensure it stays fresh. We use a large black plastic box with a lid for our camping pantry which keeps things from getting squashed and keeps them away from sun exposure too. We take lots of bag clips with us too. One of the main things to consider is the package size as some foods will need eating as soon as possible after opening a packet.