Why Camping in Your Garden is a Good Idea
There are loads of campsites and wild camping destinations to explore, but have you ever considered camping in your own garden? In this article, we'll explore why camping in your garden is a good idea.
To see if you like camping
If you have never been camping, or someone in your family has never been camping, camping in your own garden is a great way to test if you like camping. It's also a good way to get children used to the idea of camping if they've never been on a real camping trip before and to see how they get on with sleeping in a tent before heading out on the road and paying for a campsite.
Whether you are new to camping or have been camping for a long time, another great reason to go camping in your garden is to test out new gear. It's always good to know how to put up your tent and and, if you have a new one, it's good to practice at home on a nice day so that you know how it all works and to make sure that no parts are missing. For camping in the UK, it's essential to know that your tent is waterproof as rain is likely!
It's good to test other gear before you head out too – to make sure the stove works and that your sleeping gear is warm and comfortable enough, for example. You don't want to arrive at your destination to discover that an essential part is missing, that your self-inflating sleeping mat is faulty, the stove won't turn on and your sleeping bag is too thin to keep you warm! Test out your gear in the comfort of your own garden first to avoid problems like these.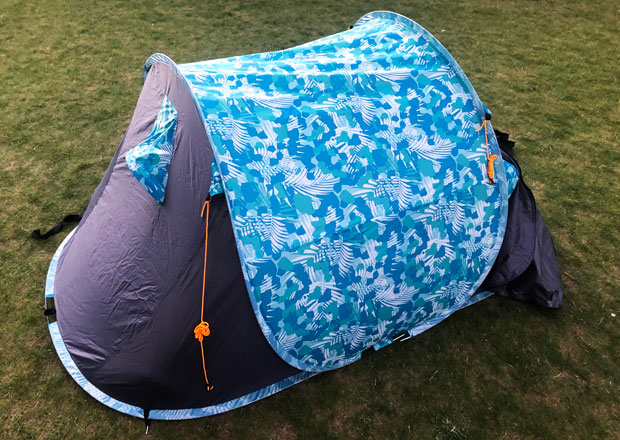 Another excellent reason to camp in your garden with your kids is that they will most likely think it's lots of fun! I camped in the garden with my eldest last year and it was a great experience. We had lots of fun! We made one mistake though – we used blankets instead of sleeping bags as it in the middle of summer as the weather was exceptionally hot in the daytime. At 4 am, I had to run into the house to get some more layers to keep us warm until morning! Next time, we'll use sleeping bags!
When you're at home in your own garden it's easy to make it extra fun since you have access to all your usual stuff. Hang some fairy lights to make it cosy, have a BBQ, and play garden games all night.
Camping in your own garden is also a great way to save money if you fancy a little bit of adventure but are on a tight budget. You can get many of the experiences that you get from camping without spending any money on campsite fees and travel. You'll still have lots of fun and it will give you a chance to explore your local area too.