Tips for Camping with your Dog
If you have a dog as a pet, I'm sure your furry friend is an important member of your family that you want to include as much as possible. This might include travelling and camping trips. If you've not taken your dog camping before, here are a few tips for camping with your dog to read before you plan your next camping trip! Let's get started!
Find a Suitable Campsite
If you're wild camping, then you don't need to worry about this so much but since wild camping is not allowed in most of the UK, a campsite destination is more likely. When looking for a campsite to visit with your dog, search for dog friendly campsites and read reviews of what other dog owners' experiences were like. There are some sites that accept dogs, some that don't and then there are a few that go the extra mile for pet owners and their dogs to ensure that they're comfortable. We visited a site in the Lake District recently that had a dog shower and water bowls for dogs, for example.
It should say on any campsite listing, whether on PitchUp or when booking direct, if a campsite is dog friendly or not. Sometimes certain camping pods or areas are dog friendly while others are not.
Also consider the travel time to get to the site as your dog might not like travelling for very long periods of time. Other things to consider is whether there are dog-friendly activities and walks nearby, whether your dog will need to stay on the lead the whole time while on the campsite and if the nearby food establishments allow dogs.
If you get to choose the pitch, try to find a spot with plenty of shade if the weather is hot.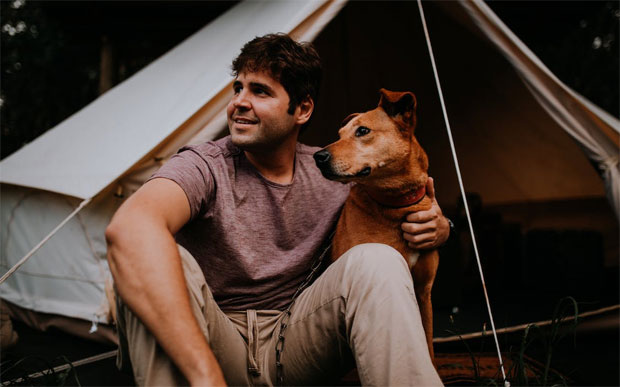 Try Camping with your Dog at Home First
Just like it's a good idea for people to try camping at home in the garden first, the same goes for dogs. If you haven't taken your dog camping before, pitch up your tent in the garden to let your dog get used to the tent and try sleeping in it together too before you take your dog camping for the first time. Practise this until your comfortable that your dog will be a happy camper! You might want to use a dog bed from home to provide a familiar sleeping area for your dog.
Practise Good Camping Manners (if needed!)
If needed, do a bit of basic training to instil good manners in your dog. Campsites are exciting places for dogs who love to explore and love meeting new people. Your dog needs to be well-behaved and listen to you when you call them or give them instructions.
Most campsites will require your dog to be on a lead except for in designated areas so make sure your dog is happy to be on a lead. You can use things like a Spiral Dog Leash Anchor or a Doggie Zip Line to allow your dog to still move around whilst on the lead.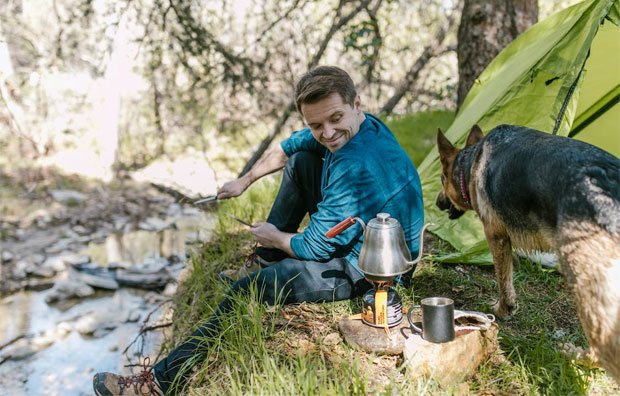 Pack the Dog Camping Essentials
Just like all family members, there are some specific essentials that you should pack for your dog when going camping:
Lots of biodegradable poo bags!
Your dog's favourite toys.
Plenty of dog food for the trip, stored in an airtight container.
Your dog's bed or a dog travel bed. Plus, a blanket if it's cold at night.
Blankets/mats to cover the tent's floor to protect it from pet dirt and claws!
Towels!
Collapsible bowls for water and dog food.
A spare lead and a tether to secure it as discussed above.
Any medication that your dog is on, a dog first aid kit, and the contact details for a local vet.
Now you're ready for camping with your dog! Share any camping with dogs experiences and advice in the comments below.
There are many things you need to consider when getting a pet and how they'll fit into your family holidays is an important aspect. Luckily, camping with your dog is one of the easiest ways to enjoy travelling with your pet!