What Gear Do You Really Need to Go Car Camping?
Camping can be quite expensive when you're first getting started and are building your kit. The good news is that you don't really need that much equipment when you go car camping. Unlike with backpacking when you need specialist compact gear that you can fit in your backpack, you can use lots of your regular stuff when you go car camping as you don't need to worry so much about space and weight. With car camping, I'm referring to driving to a campsite – not sleeping in your car.
So, what gear do you really need to go car camping? We'll explore that in this article so read on to find out more…
Naturally you will sleep in a tent when you go camping but you don't actually need to own a tent. If you want to try camping without investing in a tent, you could choose to visit a campsite where you can rent a canvas bell tent that's already pitched for your arrival. Sometimes they are simply empty tents, and, on some sites, they are a glamping option with some stuff provided inside. Another option to try camping without buying a tent would be to borrow one from someone you know.
Of course, you can also buy a tent which is a good idea if you think camping is something you will enjoy and want to do again. There are lots to choose from with lots of considerations – I think that will be a separate full article on its own!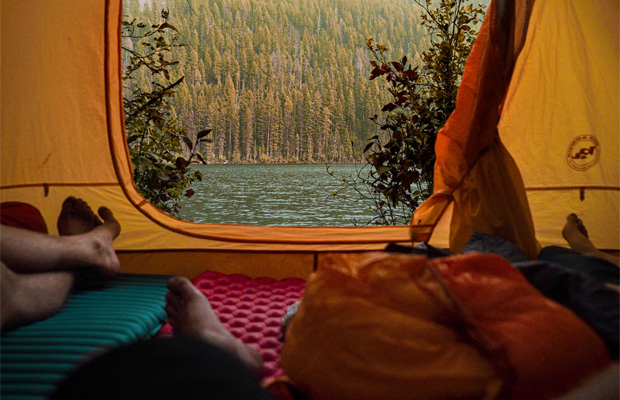 You'll need something to sleep on in your tent and self-inflating sleeping mats are ideal for this. We've tried air mattresses and a few different sleeping mats and the self-inflating mat option has been the most comfortable for us, for the whole family. Plus, they're easy to use and don't take up much space either. We have Self-Inflating Camping Mats from Trail Outdoors which come in 3 thicknesses – 3cm, 5cm and 10cm. We have 3cm for the kids and 5cm for us adults.
Sleeping bags are handy as they are space saving and convenient for camping but when you go car camping, you can just take duvets if you want to and can fit them in the car. We sometimes take a duvet instead of our sleeping bags for us adults when we go pod camping and the temperature is a bit more consistent.
Sleeping bags are available for all kinds of budgets. My husband has a fancier Berghaus one while the girls and I have budget-friendly sleeping bags from Mountain Warehouse which are all great so far too. They are summer ones, but we've used them in early spring in cold weather too.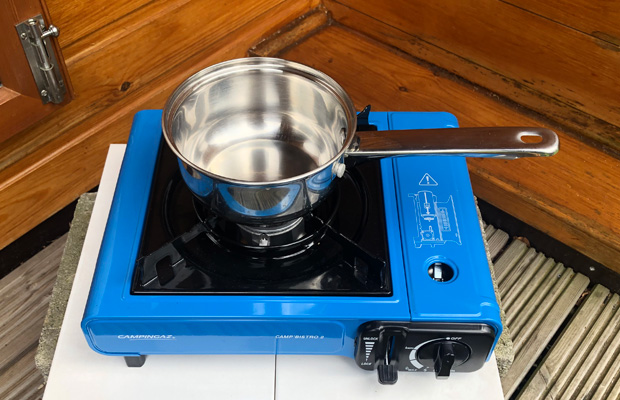 If you want to be able to cook while you're camping, then a camping stove is a very handy piece of kit. Some sites might have BBQs available to use too but it's always a good idea to have your own stove for cooking food or boiling water for cups of tea or coffee. You can see ours above which is by Campingaz.
There are lots of easy meals that you can make with just one pan when camping. You don't need special pans and pots, crockery, and cups etc for camping – you can use things from home. If you fall in love with camping, you might choose to invest in some nesting camping pans and other camping specific items then. Don't forget to pack gas for your camping stove – that's definitely an essential! We use Campingaz Resealable Gas Cartridges that are readily available from lots of different shops.
A washing up bowl, sponge/cloth/dish brush and some washing up liquid will help you wash your dishes at the campsite washing up station.
For us, a cool box is essential when camping to keep food cold but you could get away without one – it depends on what you want to eat. We only camp for up to 3 nights usually so a well-planned cool box can stay cold for a large chunk of our camping trip. We have a Campos cool box from Argos (I think it's the 29L size).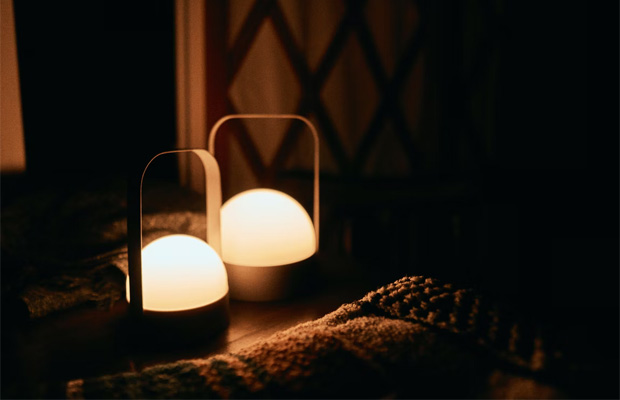 Some kind of light source is always handy when camping. A torch is great for visiting the campsite toilets after dark and a lantern that you can hang up inside the tent is perfect a light for the evening. Most come with different settings so that you can adapt the intensity depending on what you're doing. Look for one that you can hang up!
Not everyone feels the need to have camping chairs with them when they go camping but they are an essential for us. So far, we only have them for us adults as the kids don't really mind sitting on the floor! It makes a big difference to us grown-ups, though! Some campsites have picnic tables available for use outside the tent, which is always a nice bonus, but the chairs come in handy inside the tent in the evenings and early mornings too.